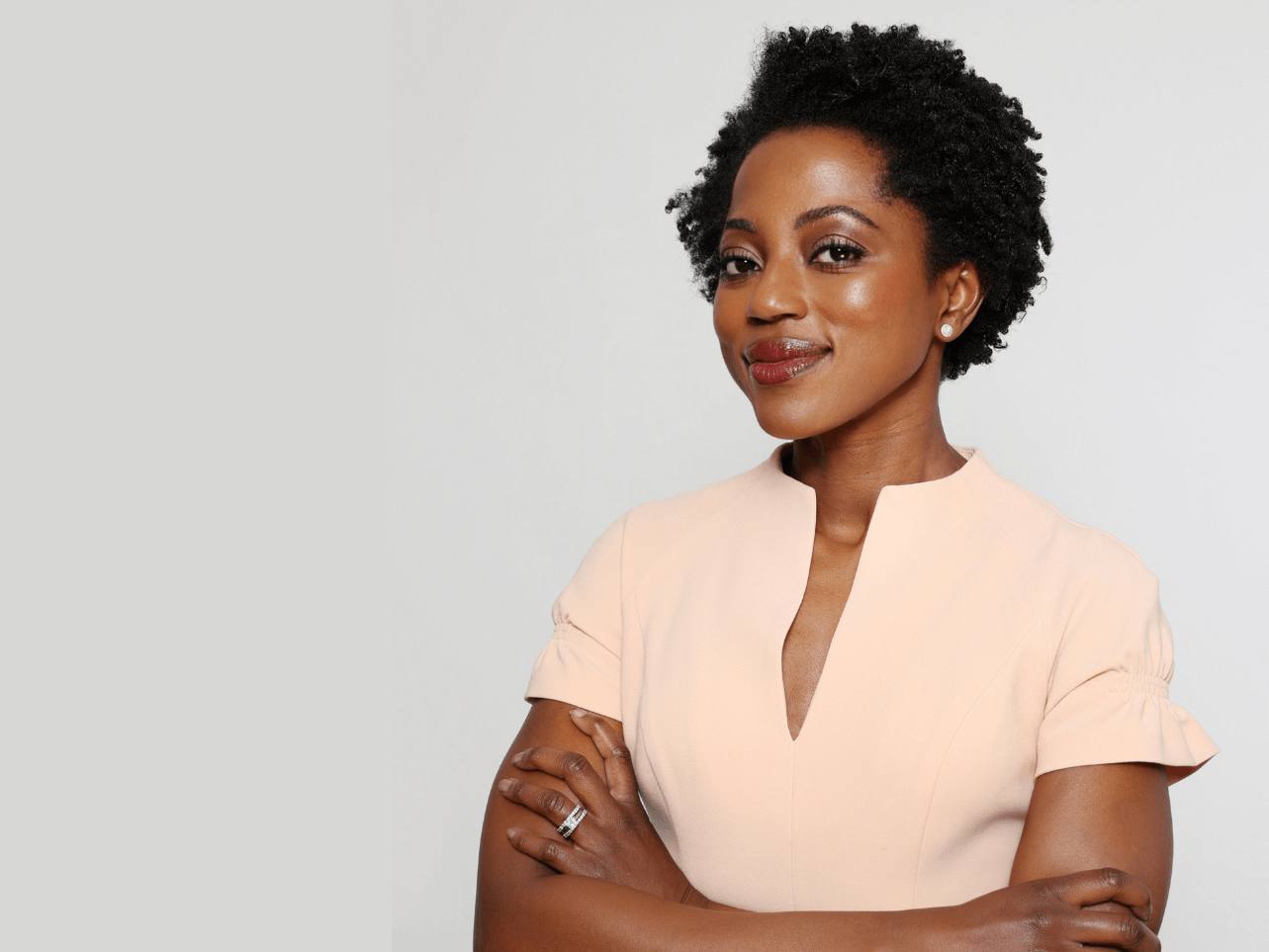 WELCOME TO THE OFFICIAL WEBSITE OF
NAANA BOAKYE, MD
Board-certified
dermatologist.
Skincare expert.
Product formulator.
Author.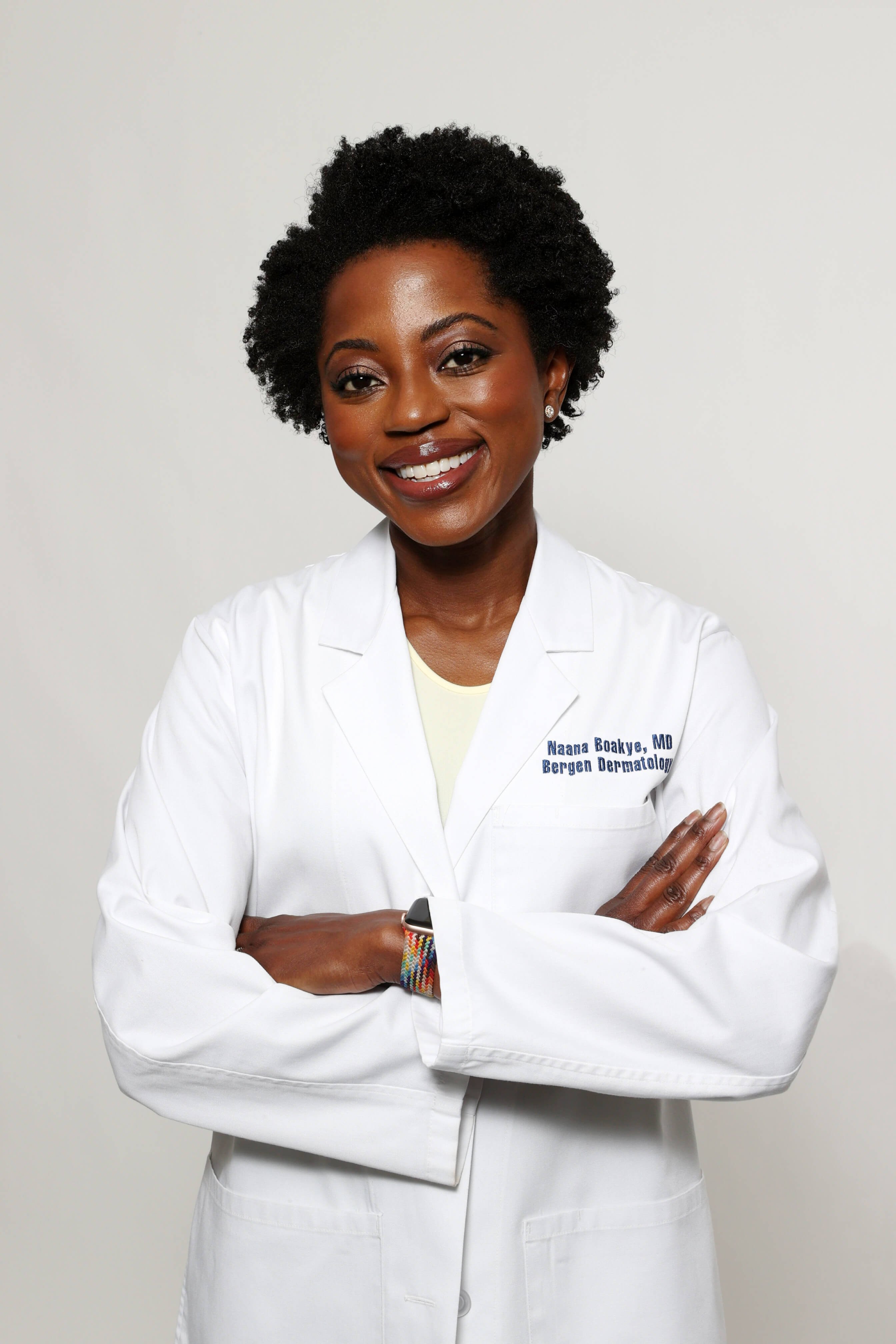 MEET
DR. NAANA BOAKYE
Dr. Naana Boayke and every aspect of her work is driven by a simple philosophy: Radiant skin is a lifestyle. She takes an inside-out approach to healthy skin, and believes diet, exercise, mindfulness and overall wellness all play a role in achieving healthy, glowing skin.
A practicing dermatologist who has treated more than 18,000 patients over the past 15 years, Dr. Boakye received her B.A. at Wellesley College, her M.P.H. from George Washington University and her M.D. from Temple University. She completed her dermatology residency at State University of New York Health Sciences Center in Brooklyn, New York, where she also served as Chief Resident. Dr. Boakye is affiliated with numerous professional societies including the American Academy of Dermatology, Skin of Color Society and the American Contact Dermatitis Society.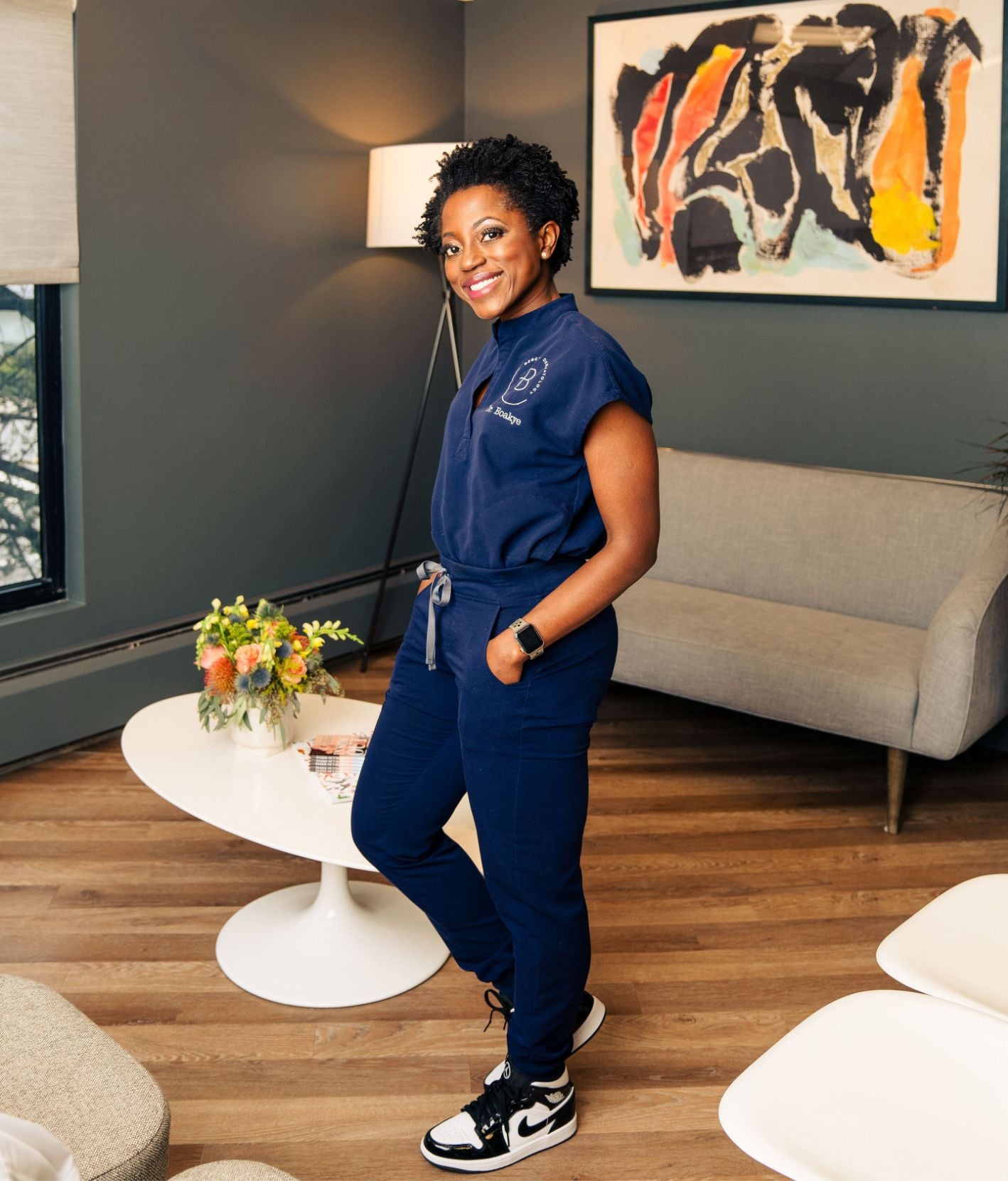 THE PRACTICE
Dr. Boakye provides the entire spectrum of medical and cosmetic dermatology services at her thriving private practice in Englewood Cliffs, New Jersey. She also offers several customized "programs" for comprehensive acne treatment and creating the ideal skincare routine. In addition, she is certified to practice virtually in Arizona, California, Connecticut, Florida, Hawaii, Michigan, New Jersey, New York, North Carolina, Pennsylvania, South Carolina, Texas, Virginia, Washington state and Washington, D.C.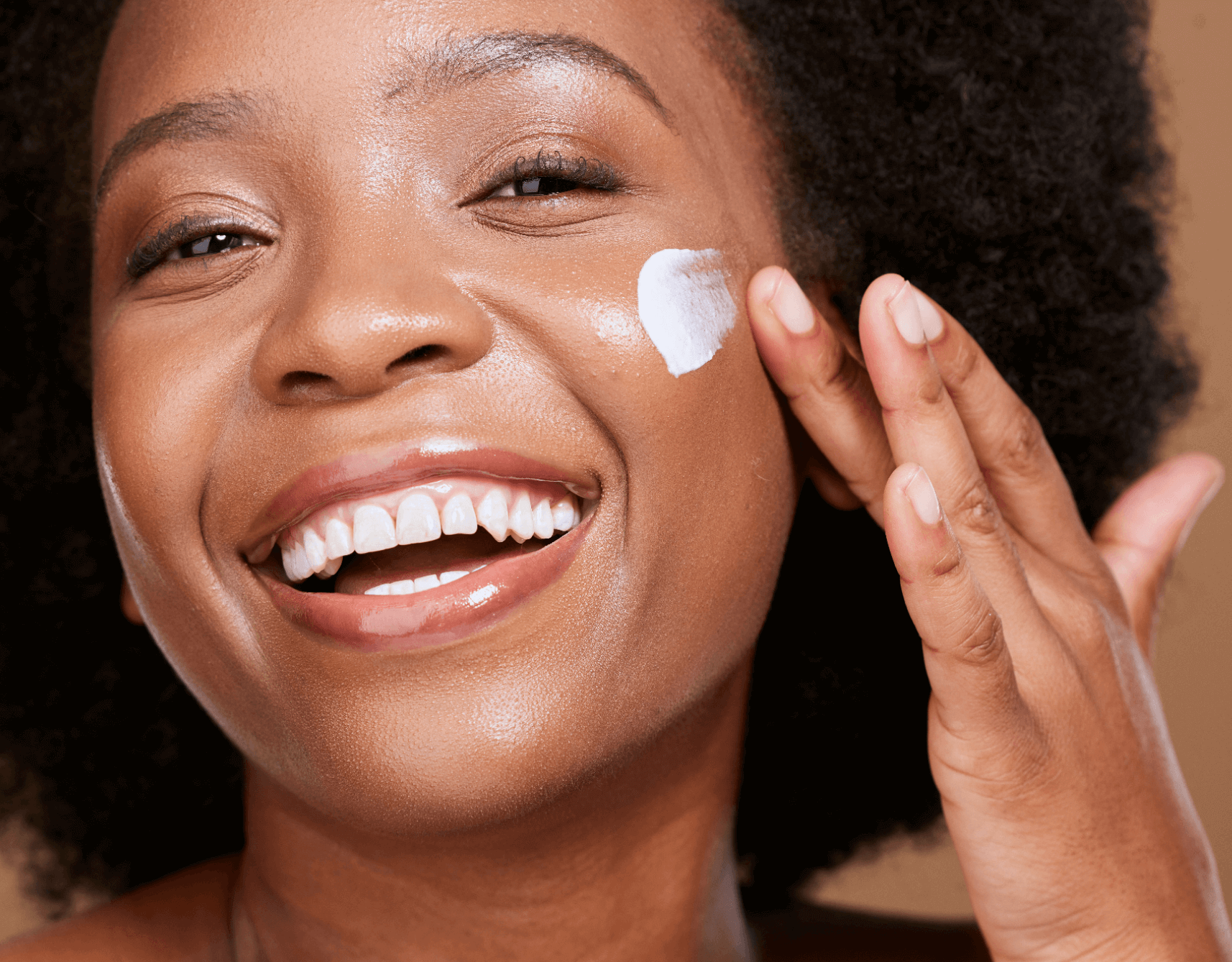 COMING FALL 2023
SKINCARE BY DR. NAANA
SUSTAINABLE-MINDED, CLEANER SKINCARE
Dr. Naana Boakye's philosophy for maintaining healthy, radiant skin includes skincare that takes lifestyle into account. Her product line features multitasking ingredients that brighten the skin while maintaining its moisture and ultimately protecting the skin barrier. Biology is at the forefront of her products. These products are formulated with fewer ingredients, physiological lipids and without known allergenic preservatives. All ingredients are custom formulated, hand-selected, appropriate for all skin tones and do not pose a threat to one's health.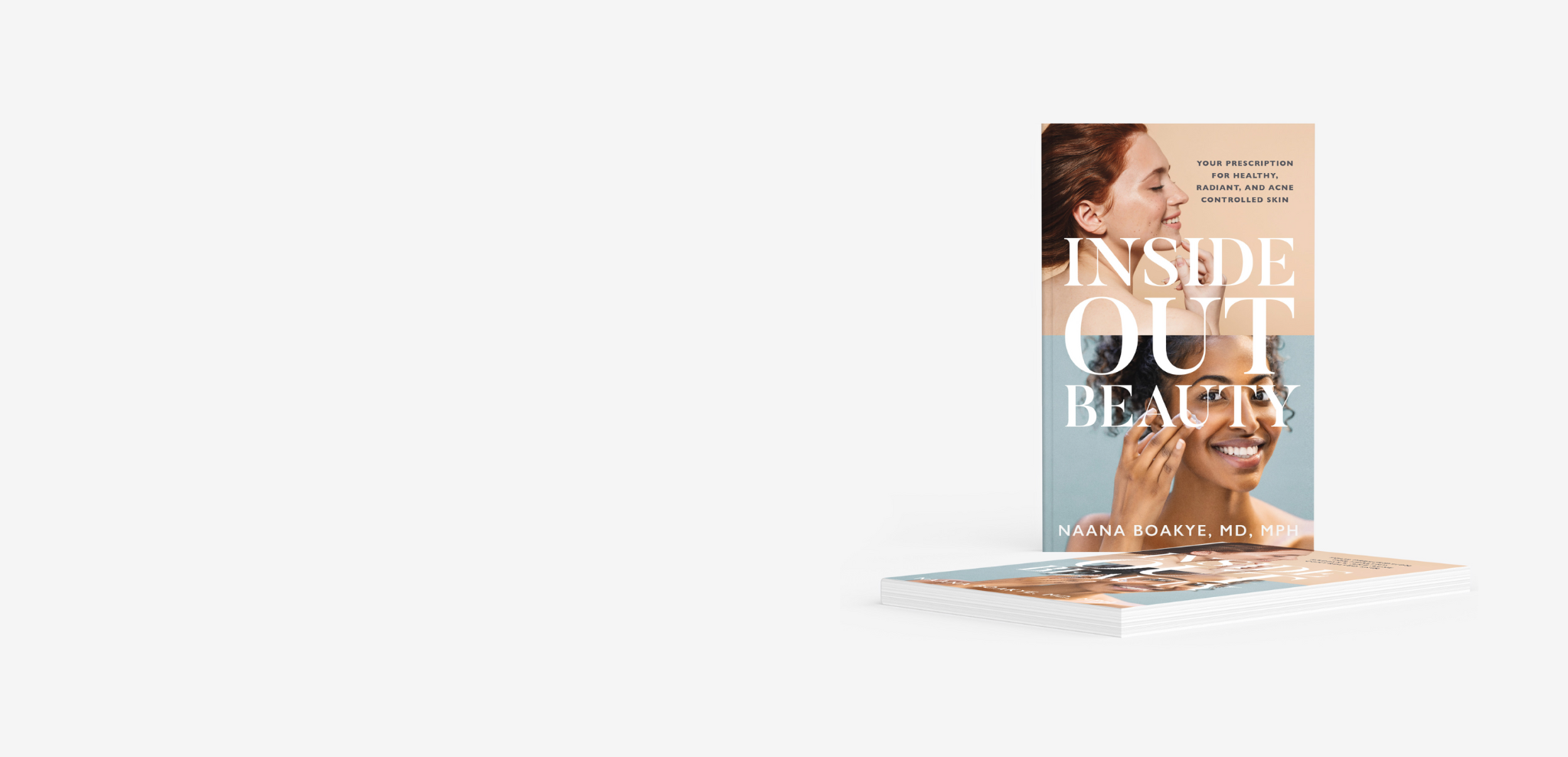 NAANA'S BOOK
INSIDE OUT BEAUTY
Dr. Boakye is the author of Inside Out Beauty: Your Prescription for Healthy, Radiant and Acne Controlled Skin. This detailed guide to achieving radiant skin includes skincare advice and explains how healthy lifestyle choices such as diet, physical activity and mindfulness work in concert to promote healthy skin.
IN THE PRESS
THE LATEST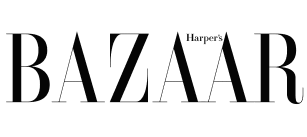 CELEBRITY SKINCARE COLLABORATIONS
Dr. Boakye is the Chief Medical Officer of A-Frame, a brand-building company that focuses on developing celebrity-led skincare lines.
REAL CUSTOMERS, REAL REVIEWS
WHAT PEOPLE ARE SAYING
CLIENT
BERGEN DERMATOLOGY
I want to thank Dr. Boakye for creating this "clean" serum. I have seen consistent improvement in the appearance of acne scars and overall brightening of my skin. I would highly recommend Radiance Drops Skin Nutrition Serum to anyone that wants glowing and clear skin!!!"
–J. Chiurazzi
BOOK REVIEW
INSIDE OUT BEAUTY BY DR. NAANA
Such a great read. Dr. Boakye offers so much advice in regard to diet, exercise, acne, hyperpigmentation and more. I love Dr. Boakye's holistic approach to beauty coupled with personal stories that make this book so enjoyable to read. I didn't realize how much my overall lifestyle was impacting my skin. I use topical retinoid for acne but that only seems to do so much when I don't live a healthy lifestyle. I seriously need to adapt some of the lifestyle changes that Dr. Boakye mentions. This book is truly a gift and definitely a worthwhile purchase!
–S. Berryfrom Amazon
CLIENT
BERGEN DERMATOLOGY
Walking into a doctor's office knowing the doctor looks like me already gives me a boost of confidence and comfortability. Dr B. is my GO TO doctor. I was seeing her for a while before moving to L.A., but because I swear by her, I will literally fly across the country to see her. I trust her! The improvements on my skin are very visible and definitely helps with my confidence. She's very knowledgeable and will take the time to explain everything to you. She doesn't rush you out the door like most doctors do and will answer any questions you may have.
–N. Davis
from Google